Blog Looking for a corporate and trendy USB drive? Welcome the Executive USB
We are pleased to offer you yet another new USB Flash Drive, uniquely designed and manufactured by Flashbay. While containing some similarities to other USB drives such as the Leather USB Drive and Voyager in being assembled using leather, unlike them the drive's body is made of gleaming metal created by a chrome plated finish. This precise combination of classy leather and sleek metal is the reason we called it the Executive USB, and you can be sure that it'll have that corporate effect you're looking for on your clients.
The leather strap that wraps around the USB connector makes a cap unnecessary. The inbuilt magnet keeps the strap in place. There are two large branding areas on both sides of the leather strap. This means that when the USB is used, the owner must physically interact with the brand, which leaves a lasting impression of your organisation on the USB owner.
Be sure that even after the designing and manufacturing effort we put into the creation of the sophisticated Executive USB, we remain true to our value of protecting the environment , and we do this by using 100% recycled sources for the USB shell.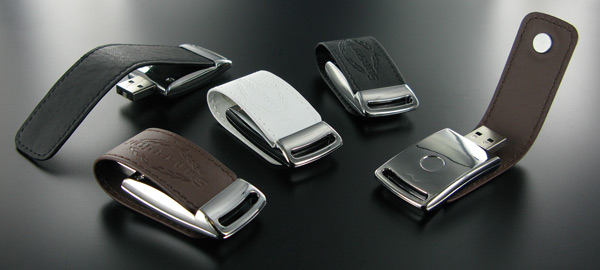 If you are looking for a luxurious and still affordable promotional gift which you will be proud to have your brand associated with, then consider the Executive USB Flash Drive as your USB promotional gift of choice!

Author: Peter Cardin